The Magic of Story
Home | About Kay | Books | Author Visits | Appearances | For Writers | Resources/Links | What's New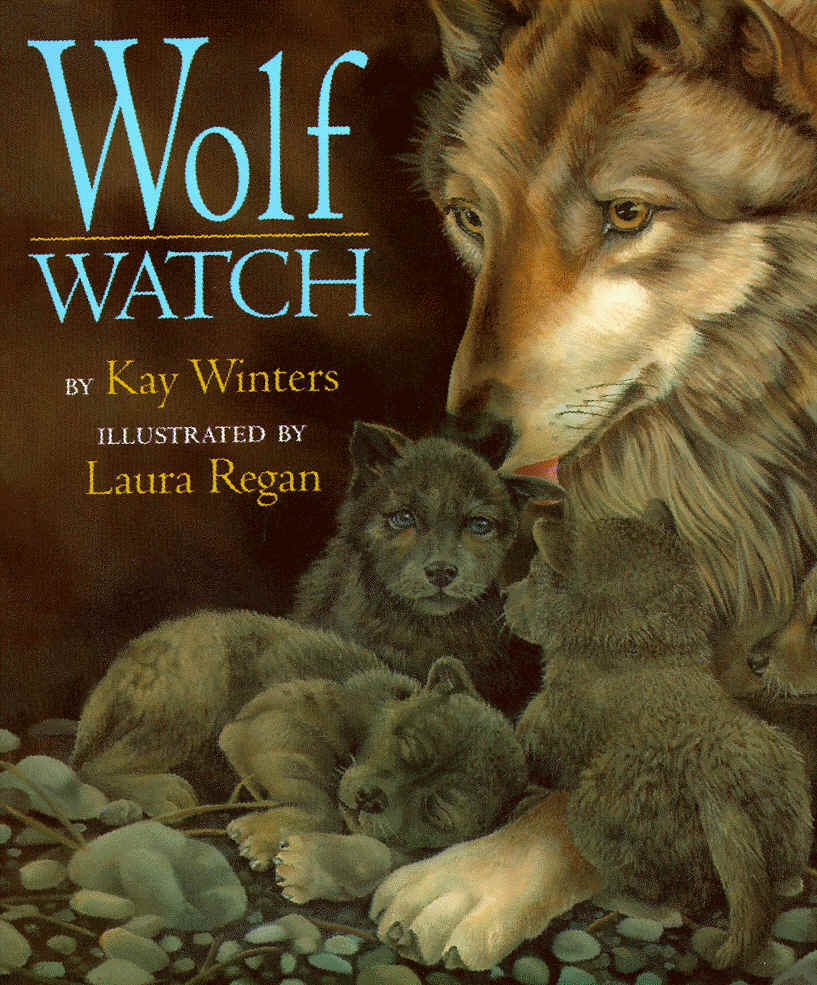 Wolf Watch
Illustrated by Laura Regan www.lauraregan.com
Simon and Schuster
Available in Libraries
Wolf Watch is now available as an ebook on StarWalk Kids Media.
Wolf Watch is the story of a wolf family whose cubs are about to be born. The struggle of wolves to survive in the wilderness is written in poetic language with stunning oil paintings by Laura Regan. All ages.
Author Comments: As a second grade teacher, I was very surprised to have a man with a wolf on a leash come into my classroom. As the children stood close by, he spoke about the gentle qualities of wolves and their loving family ways. I had to rethink my ideas about wolves. I had always believed in the wolf of Red Riding Hood fame. Big, bad, and wicked. So one of my very first research projects was to examine the lives of wolves in the wild.
What Reviewers said: For those budding young naturalists who relish information on wild animals here is a treasure of a book. In short carefully worded quatrains, Winters accurately follows four wolf pups from the night of their birth through their first outing from the den. Reganís realistic oil paintings perfectly capture the animals actions and bring their world to life. School Library Journal, 11/97.
Wolf Watch follows the early days of a litter of pups but delivers its straightforward plot by way of manageable four line stanzas of verse. New York Times Book Review, 11/16/97.


A
wards and Book Club Selection:
Pick of the List
, Banks St. College, Best Books of 1998 . Troll book club and book fairs.
Did You Hear What I Heard?
Voices from the Underground Railroad
Pete & Gabby: The Bears Go to Town
The Bears Go to School (A Pete and Gabby Book)
Voices from the Oregon Trail
This School Year Will Be THE BEST!
Colonial Voices - Hear Them Speak
My Teacher for President
Voices of Ancient Egypt
Abe Lincoln, The Boy Who Loved Books
Whooo's That?
The Teeny Tiny Ghost
Whooo's Haunting the Teeny Tiny Ghost
The Teeny Tiny Ghost and the Monster
Did You See What I Saw?
How Will the Easter Bunny Know?
But Mom, Everybody Else Does!
Tiger Trail
Wolf Watch
Who's Coming for Christmas?
Home | About Kay | Books | Author Visits | Appearances | For Writers | Resources/Links | What's New