The Magic of Story
Home | About Kay | Books | Author Visits | Appearances | For Writers | Resources/Links | What's New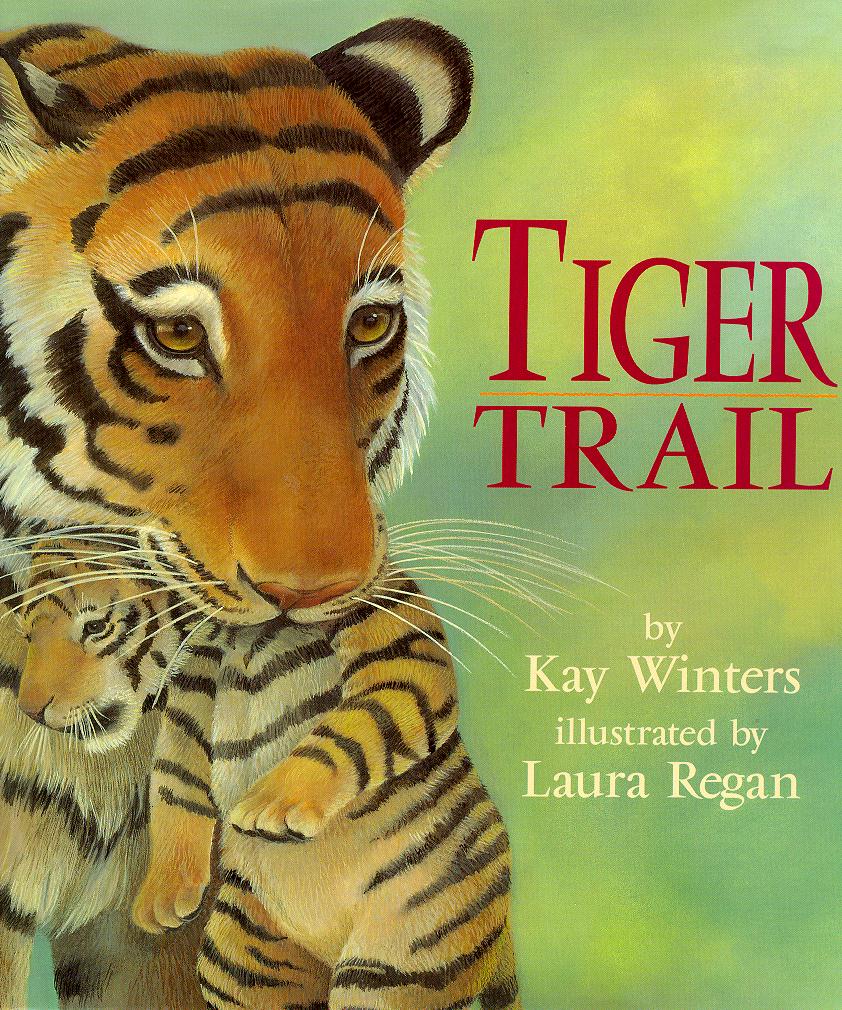 Tiger Trail
Illustrated by Laura Regan www.lauraregan.com
Simon and Schuster 9/ 2000.
Available in Libraries
Tiger Trail is now available as an ebook on StarWalk Kids Media
Cover Copyright © by Laura Regan, 2000
Tiger Trail is a companion to Wolf Watch. Suspense simmers in this exploration of a tiger family and how they live in the wild. Watch the tigress teach her cubs to hunt, stalk, swim and survive. Exquisite oil paintings. All ages.
Author Comments: When Simon and Schuster requested another animal book from Laura and I, we decided on the tiger, because tigers have a very different family structure from wolves. The mother does the nurturing, protecting and teaching. We were also interested in portraying a different kind of environment. The jungle offered rich possibilities.
What Reviewers Said:
The author and illustrator of Wolf Watch here team up again to let the tigress speak, "I am the tigress/ I walk alone." Wintersís tigress describes how she hunts to feed her cubs, washes them with her warm wet tongue, carries them to safety to avoid a lurking leopard, and teaches them to swim, hide and hunt until at last they can live on their own... Reganís huge black and gold tigress has strength and dignity while the inquisitive cubs are cuddly and cute... This is an attractive nature read-aloud for the picture-book set. Kirkus.
I am the tigress/ I walk alone. No pack/no pride/ no mate/ helps me survive. The double page illustration to these opening lines emphasizes strength above all. The tigress/body with head turned in a business-like way is muscularly powerful. Though given a narrating voice, the tigress is not made chatty. Children might not see an immediate correlation to single parent households, but could feel a sense of pride in difficult jobs done well. Chicago Tribune.
This attractive picture book with gorgeous wildlife paintings and dramatic narration by a bold mother tiger, is a great choice for classroom units on animals....Exciting scenes depict the hunt for prey, and as the cubs grow they join in the action. All full color double page spreads, the pictures are highly detailed and will invite repeated browsing. Book Links.
Did You Hear What I Heard?
Voices from the Underground Railroad
Pete & Gabby: The Bears Go to Town
The Bears Go to School (A Pete and Gabby Book)
Voices from the Oregon Trail
This School Year Will Be THE BEST!
Colonial Voices - Hear Them Speak
My Teacher for President
Voices of Ancient Egypt
Abe Lincoln, The Boy Who Loved Books
Whooo's That?
The Teeny Tiny Ghost
Whooo's Haunting the Teeny Tiny Ghost
The Teeny Tiny Ghost and the Monster
Did You See What I Saw?
How Will the Easter Bunny Know?
But Mom, Everybody Else Does!
Tiger Trail
Wolf Watch
Who's Coming for Christmas?
Home | About Kay | Books | Author Visits | Appearances | For Writers | Resources/Links | What's New