The Magic of Story
Home
About Kay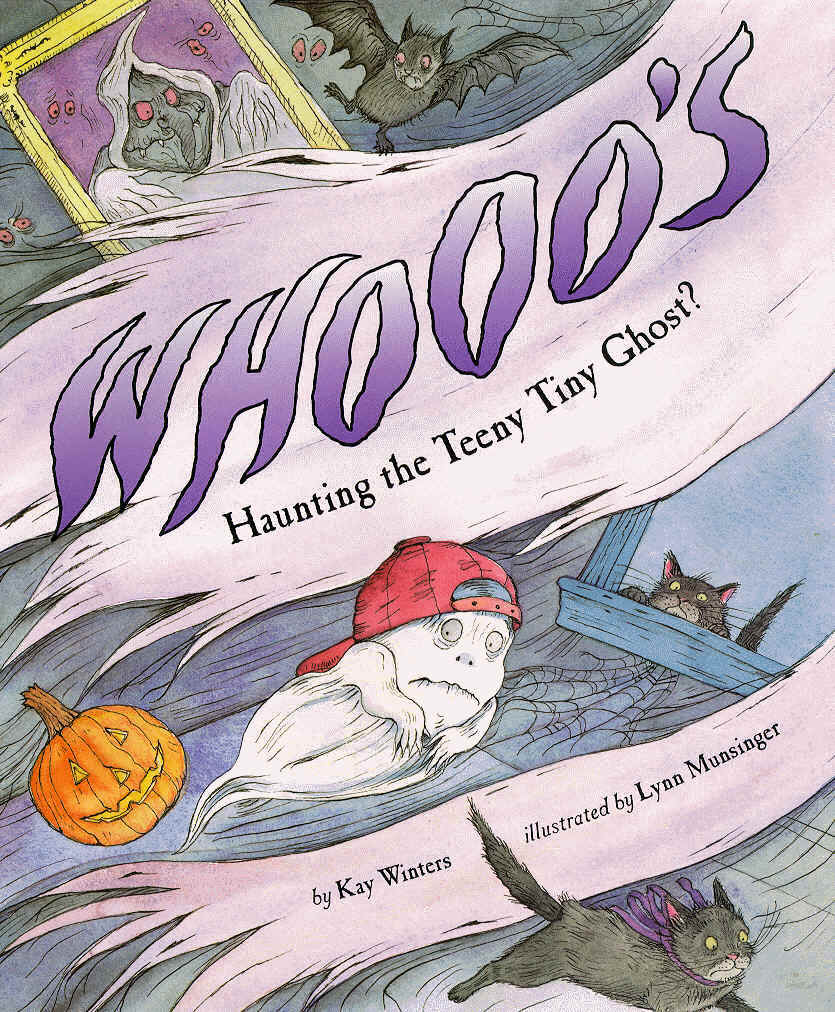 Books
Author Visits
Appearances
For Writers
Resources/Links
What's New
Whooo's Haunting the Teeny Tiny Ghost?
Illustrated by Lynn Munsinger.
HarperCollins, 1999
Available in libraries
Cover Copyright © by Lynn Munsinger, 1999
Whooo's Haunting the Teeny Tiny Ghost? It's hard to be brave when you are a teeny tiny ghost. Especially when you come home and find someone haunting your teeny tiny house, and you're the ghost! A sequel to the Teeny Tiny Ghost. (3-8)
Author's comment: The Teeny Tiny Ghost is still fearful, but he's getting bolder. He learns that "being brave just takes practice," as he masters sailing down the slippery slide on the playground, and confronting the spirit who is haunting his teeny tiny house. Once again Lynn Munsinger captures the essence of the story with her disarming watercolors.
What Reviewers Said: A lesson in bravery, a spine-tingler and an all-out charmer, this is the treat of the Halloween season. Publishers Weekly 9/99. Starred review.
Munsinger's merry illustrations overflowing with many humorous touches contribute to this gleefully boisterous tale. Kirkus 7/99.
Book Clubs, Awards & Foreign Sales: Who's Haunting the Teeny Tiny Ghost was named a Children's Choice by IRA . It was selected by the Scholastic book fair and book clubs. It has been translated into Italian.
Did You Hear What I Heard?
Voices from the Underground Railroad
Pete & Gabby: The Bears Go to Town
The Bears Go to School (A Pete and Gabby Book)
Voices from the Oregon Trail
This School Year Will Be THE BEST!
Colonial Voices - Hear Them Speak
My Teacher for President
Voices of Ancient Egypt
Abe Lincoln, The Boy Who Loved Books
Whooo's That?
The Teeny Tiny Ghost
Whooo's Haunting the Teeny Tiny Ghost
The Teeny Tiny Ghost and the Monster
Did You See What I Saw?
How Will the Easter Bunny Know?
But Mom, Everybody Else Does!
Tiger Trail
Wolf Watch
Who's Coming for Christmas?
Home | About Kay | Books | Author Visits | Appearances | For Writers | Resources/Links | What's New