The Magic of Story
Home | About Kay | Books | Author Visits | Appearances | For Writers | Resources/Links | What's New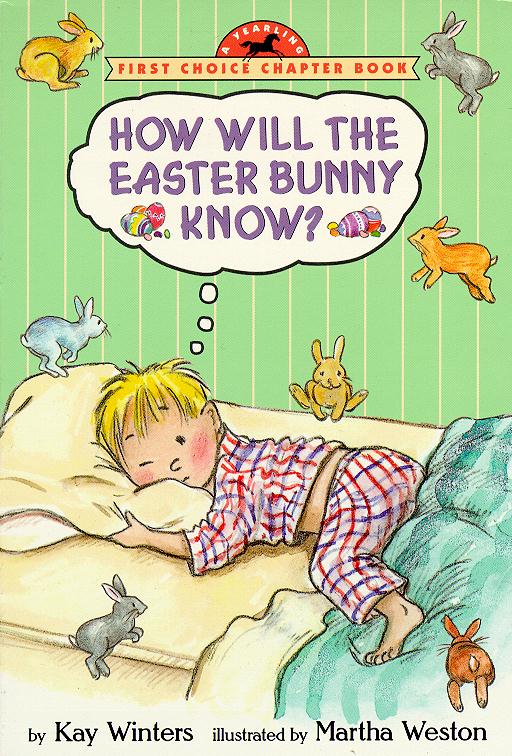 How Will the Easter Bunny Know?
Illustrated by Martha Weston
First Choice Chapter Book
Delacorte/Random 1999
Available in Libraries
Cover Copyright © by Martha Weston, 1999
How Will the Easter Bunny Know? Mike is going to Grandmaís for Easter. How will the Bunny know where to find him? His friend Tony told him the bunny only goes to the houses of people with kids. What to do? Mike has a plan. Will it work?
Authorís Comments: This story came about because my husband Earl lunched with a friend who said... " Last night we had a phone call from our nephew. He said, Uncle John if I come to your house for Easter, how will the Bunny know where to find me? " My husband came home and said, "I think you could write a book about that." And I did. Martha Weston who did the illustrations for Did You See was commissioned to do the bunny book. She caught the flavor immediately.
What Reviewers Said: A well planned story line weaves together several humorous episodes... Westonís full color illustrations capture Mikeís fears, doubts, determination and final joy: Winterís book comforts children and reminds them of the power of belief. Kirkus Reviews
Thereís something beguilingly childlike about this simple story. Sensitive pencil drawings highlighted with watercolor washes, illustrate this likable story of a child-size dilemma. Booklist. 3/15, 99.
Book Clubs

Selected for three Scholastic book clubs.

Did You Hear What I Heard?
Voices from the Underground Railroad
Pete & Gabby: The Bears Go to Town
The Bears Go to School (A Pete and Gabby Book)
Voices from the Oregon Trail
This School Year Will Be THE BEST!
Colonial Voices - Hear Them Speak
My Teacher for President
Voices of Ancient Egypt
Abe Lincoln, The Boy Who Loved Books
Whooo's That?
The Teeny Tiny Ghost
Whooo's Haunting the Teeny Tiny Ghost
The Teeny Tiny Ghost and the Monster
Did You See What I Saw?
How Will the Easter Bunny Know?
But Mom, Everybody Else Does!
Tiger Trail
Wolf Watch
Who's Coming for Christmas?
Home | About Kay | Books | Author Visits | Appearances | For Writers | Resources/Links | What's New