What's New
66th Tinicum Arts Festival
The Tinicum Art Festival, celebrating its 66th year, brought artists, crafts people, musicians, entertainers, authors and illustrators to Tinicum Park in Erwinna, PA on July 11 and 12. Once again, Kay was responsible for inviting twelve local authors and illustrators to the Authors' Table to share and sign their books and visit with their fans. The books were provided and sold by Farley's Book Shop of New Hope. A schedule was posted each day so visitors would know when their favorite author was signing.


Alissa Grosso, Author of novels for young adults.


Pam Swallow is the author of picture books, chapter books and a biography for adults.


Eric Wight delighted his fans with graphic novel chapter books for young children.


New this year and a big favorite with kids was the balloon man, who was very adept at twisting and turnung the bright balloons into intriguing shapes.

A repeat entertainer was Jerry Brown on stilts. With his pet monkey Django perched on his shoulders, he greeted the vusitors and played a song.
And the Young and the Rest of Us barbershop quartet serenaded us with familiar tunes in sweet harmony. The weather cooperated and hand-dipped ice cream and home-made baked goods topped off the day.

Underground Railroad Research in New Bedford, MA


Visiting Historic Sites
Road Trip to Northampton, MA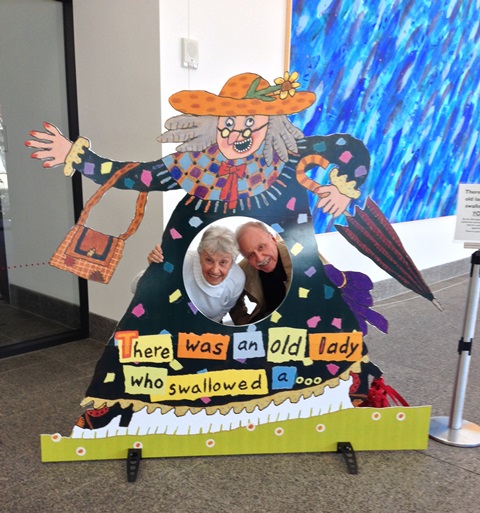 Eric Carle Museum: The Simms Taback Retrospective
Our Family

Linda, Oliver(14), Nelson(11), and Jason
At our Thanksgiving holiday in Palm Springs.

Golfing Buddies Earl, Oliver, Jason and Nelson

Home | About Kay | Books | Author Visits | Appearances | For Writers | Resources/Links